No child should have to go through intubation because of a reckless governor seeking election regardless if it is Rick DeSantis (FL), Greg Abbott (TX), Kristi Noem (SD) or Kim Reynolds (IA), kissing up to Donald J. Trump and his anti-mask message, or state legislators passing laws denying vaccination for any disease as with the corrupt legislation of Tennessee. Florida, Missouri, South or North Dakota, Texas, Georgia, or Missouri. COVID cases are now rising 1 every 45 minutes–almost all are in the southern states that have legislated against masks and vaccines: preferring people to die rather than see a loss in profits.1
Florida reported 134,506 new Covid-19 cases over the last week on Friday, more than any other 7-day period during the pandemic. The previous record high was set January 8, with 125,937 cases reported over seven days, for an average of 17,991 cases each day, according to data from Johns Hopkins University. Florida reported 175 deaths and a new case positivity rate of 18.9%, state data shows. In addition to infections, hospitalizations are also climbing. The state has the highest number of hospitalizations per capita nationwide, with 63 hospitalizations per 100,000 residents, according to a CNN analysis of Johns Hopkins and US Health and Human Services data. The Florida Hospital Association said in a news release Tuesday it expected 60% of the state's hospitals to face a "critical staffing shortage" within the next seven days.2 At the time, FHA said hospitalizations were up 13% from the state's previous peak on July 23, 2020, citing a survey of hospitals completed August 2.3 In a time of urgency as more Floridians die, self-serving and arrogant Florida Governor Rick DeSantis refuses to calls teachers, school administrators, and doctors a threat to liberty. DeSantis has come under increased criticism from President Joe Biden,4 Democrats and health care professionals for downplaying the severity of the virus and preventing cities and schools from enacting public health restrictions or mandates. DeSantis, a staunch opponent of mask requirements, has threatened to withhold funding from schools with mask mandates in his state. Meanwhile, the Centers for Disease Control and Prevention has recommended masking in schools as the highly contagious Delta variant spreads, with children under 12 ineligible to get vaccinated as most U.S. schools head back for the fall.5 As the DeSantis administration was taking action on masks, parents filed a lawsuit seeking to stop the Republican governor. The lawsuit claims DeSantis "has placed an illegal barrier for students with disabilities which is preventing our state's most vulnerable students from returning to public schools."6 DeSantis is responsible for 39,695 deaths of Floridians by his ghoulish actions on COVID and the Delta Variant.7 Ron DeSantis has promised cut off state funding to any district that forces children to wear face coverings – but some schools are bucking his ultimatum. Across the country, children make up 20% of all cases of COVID,8 and it is higher in Florida.
With the more contagious Delta variant of Covid-19 fueling record-breaking positive cases across Florida,9 Miami father Jerry Greenberg's biggest fear is that his son and daughter, who is 11 and not eligible for the vaccine, will catch the deadly respiratory disease even if they are wearing masks. "It is becoming increasingly clear that this variant poses serious risk to children," Greenberg said. "It seems to me that our governor is content to send our kids into a slaughterhouse to score political points with his base. There is no excuse for not following the science."10 Florida governor Ron DeSantis earned a new moniker this week as the resurgent coronavirus continued to wreak havoc on his state:11 the "Pied Piper of Covid-19, leading everybody off a cliff".12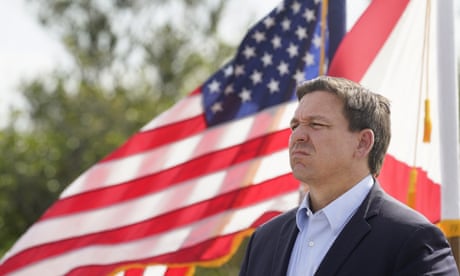 "They will be exposed to [other] kids not wearing masks and they could get sick," Greenberg said. "I think they can safely go back in person, but only if they all wear masks. Without masks, I don't see how it can be safe."13 On August 6, 2021, because of DeSantis mishandling of the Delta variant, Florida COVID cases registered an additional 22,783 cases, breaking a record for daily pandemic count. DeSantis continues to downplay the pandemic and denies all culpability for the surge in COVID cases and deaths in Florida.14 Fortunately, some Florida schools are standing up to DeSantis by defying his draconian ban of masks, favoring protecting their students instead of kissing DeSantis ass.15
By August 1, 2021, Florida had become the epicenter of the pandemic with 21,683 cases reported.  It came a day after Ron DeSantis signed an executive order16 prohibiting school districts from requiring staff and students to wear masks. Not surprising a number of Broward county parents would rather see their children dead than to have them "forced" to wear a mask. The got their wish. Teen and children's COVID cases spiked. Rick DeSantis must be arrested, tried for genocide, and when convicted, the Florida governor must be executed. The mothers who crusaded for a mask-free school and had their children die must be arrested and tried for premeditated murder of their children, and when found guilty in a court of law these monsters must be executed. The sad truth is that if Florida was a foreign country, the USA would have ban travel to and from Florida cases and death surge as 1 in every five deaths is in Florida, and 1 in every 4 hospital beds in Florida is occupied by a COVID-19 patient. Gov. DeSantis has threatened to withhold state money from school districts that enact mask mandates in K-12 schools.17 The newest surge of COVID is the direct result of the crazed teachings of a growing Death Cult of white christian evangelicals and their god Donald Trump.18
Tennessee Gov. Bill Lee, another COVID denier, led the state's government in making in easier for COVID to kill Tennesseans. Stephen Colbert quipped, "The Volunteer State has one of the worst vaccination rates in the country, and they aim to keep it that way." His show aired a spoof tourism commercial that mocked a lack of interest in stopping the spread of contagious diseases. "Visit Graceland, and then Mumpland," the narrator said, concluding: "Tennessee: the last place you'll ever visit."19 The governor made no apologies. He fired Dr. Michelle Fiscus20 and made the decision to cancel any type of vaccine outreach that appeared to be aimed at kids.21
Bill Lee is especially worried that the vaccine will protect LGBTQ and "regretfully" transsexuals in Tennessee, leading him also to sign into law an anti-LGBTQ child welfare bill making it  legal in Tennessee for taxpayer-funded child welfare organizations, including adoption and foster care agencies, to discriminate against same-sex couples and others—including the single, divorced, interfaith couples—based on "religious or moral convictions or policies" (HB 836 and SB 1229).22 "Our department and the leadership made the decisions that they think we're in the best interest, and I fully support those decisions," Lee said.
Jennifer Pritzker, whose family started Hyatt Hotels Group, and  a billionaire living in Tennessee–and the first transgender billionaire and lifelong Republican, a retired US Army Lieutenant colonel and CEO of Tanani Enterprises, with a net worth of $ billion, threatened to move her family business out of Tennessee. She stated:
"As a transgender woman, these unnecessary and hurtful laws are personal to me. As a businesswoman, my larger concern is the impact they will have on Tennessee's reputation and, ultimately, economic well-being, as businesses and tourists turn elsewhere. No state benefits from the perception that it is an intolerant and unwelcome place for people of different backgrounds, and it alarms me gravely to see this state vying for the title of least inclusive in the nation."
While conservative lawmakers had blamed health department officials, Fiscus says every one of those messages came straight out of the governor's office. NewsChannel 5 Investigates asked Governor Lee, "Why have you not stepped up and accepted responsibility, instead of letting Department of Health career employees take the brunt of this?" According to the Centers for Disease Control and Prevention, nationwide, 55.7% of Americans have received at least one dose of a COVID-19 vaccine and 48.2% have received two. In Tennessee, only 42.6% of residents have received at least one dose and 38.2% are fully vaccinated.
Not surprising, Gov. Lee's personal religious views  became a barrier in J&J vaccine rollout. Lee was motivated by the misconception that the J&J vaccine contained fetal tissue. "The governor forbade us from using it in health departments," Dr. Michelle Fiscus insisted. Fiscus said Lee claimed he wasn't convinced of the effectiveness of the vaccine, but he also had concerns about the use of fetal cell lines in producing the vaccine. "The cells that are used are decades-old cells that are the great, great, great, great, great grand-cells of those original cells. So there are no cells there that are from that original fetus," Fiscus said. Two other health department insiders independently confirmed Fiscus' account of the governor's apprehensions. When NewsChannel 5 Investigates spot-checked with one county where the vaccine was listed as being "out of stock," we were told the one-shot vaccine was not an option through the state.20 Sadly, lunatic pastors have real clout in Tennessee, and can sway voters who are too weak to think for themselves. One outrageous radical pastor Greg Locke, from the Global Vision Bible Church that is a cult in Mt. Juliet, Tennessee, appeared to lose his mind on stage while imploring his congregants to "not get vaccinated" with a bellicose belch that those wanting masks. Greg Locke is mentally ill, by all psychological standards.24 Greg Locke must be confined to a mental institution.
Texas antivaxxers are growing number of misinformation spreaders, and fully supported by Texas Republicanazi Governor Greg Abbott leading Texas into becoming a major antivaccine battlefield25 with spiking COVID and Delta Variant cases–and with growing hostilities to all vaccines, especially with white evangelical christians and Trump supporters, it is seeing a return and rising numbers of measles outbreaks.26 beginning in 2016.
Fortunately, the antivaccine, anti-LGBTQ+, racist politician H. Scott Apley, 45, and member of the Dickinson City Council and the State Republican Executive Committee, died because of his ignorance Wednesday, August 5, 2021. His last Facebook post,27 the preceding Saturday. He promoted mask-burning events, and spreading false hate messages picturing German Chancellor Angela Merkel. Apley will not be missed. Apley's wife, Melissa, and their 5-month-old son have also tested positive for COVID, Houston TV station KTRK reports.28 Apley was ecstatic when he read about a mask burning in Cincinnati. "I wished I lived in the area!" wrote H Scott Apley. The month before, Apley responded to what Baltimore's former health commissioner was heralding as "great news" — clinical trials showed the Pfizer vaccine was effective at fighting the coronavirus, including one of the recent variants, for at least six months. "You are an absolute enemy of a free people," he wrote in a Twitter reply.29 Unfortunately, two days later, Apley was admitted to a Galveston hospital with "pneumonia-like symptoms" and tested positive for coronavirus, according to an online fundraising campaign. He was sedated and put on a ventilator.30 None of the Texas GOP mentioned that Apley died of COVID–the pandemic nearly every Republicanazi continues to claim is a hoax.
Unfortunately, the idiocy of Apley did not die with him. It continues, anew, with the uneducated retard Greg Abbott, governor of Texas.  During a live interview on KPRC 2 News at 5, Gov. Greg Abbott said despite the rise in COVID-19 cases in the US, he will not impose another mask mandate. Deaths were not important, to Abbott what was important is that "Texas is open" and making money. The governor said children and babies will not be forced by the government or schools to wear a mask in the fall or take the vaccine that could save their lives. "What we do anticipate is that as kids are approaching the beginning of school, and with the Delta variant increasing, you probably will see an increase in the number of parents choosing to have the child vaccinated, as well as, the increase in teachers who have not yet been vaccinated, probably going out and getting a vaccination."31 As cases and hospitalizations are reaching heights not seen since February,32 COVID cases and deaths among children and babies is skyrocketing due to Abbott's failure to mandate safety measures against pandemic.
In Texas' Nueces County, where Corpus Christi is located, the number of new coronavirus cases skyrocketed in July after a flattening trend. The virus has infected dozens of babies and local officials are urging people to wear masks and practice social distancing. "We currently have 85 babies under the age of one year in Nueces County that have all tested positive for Covid-19," said Annette Rodriguez, director of public health for Corpus Christi Nueces County. "These babies have not even had their first birthday yet. Please help us stop the spread of this disease." Abbot ignored the cry from health professionals and parents. Abbott added to his crime by not requiring schools to not contact trace in an effort to control COVID or reverse his draconian ban on masks. Dr. Christina Propst, a pediatrician in Houston, tells Jonathan Capehart about the children with Covid-19 she has treated, including a 5-week-old infant. Dr. Lipi Roy says it's "beyond infuriating" that Texas will not require schools to contact trace when students get infected.33
Abbott's pandemic playbook in recent weeks has largely focused on blocking local mandates and committing to protecting the rights of the unvaccinated. In Texas, where hospitals are struggling with historically low staffing levels while hospitalizations from the COVID-19 delta variant are skyrocketing,34 nurses like Price are a hot commodity. There are 23,000 more unfilled jobs in Texas for registered nurses than there are nurses seeking to fill them, according to a labor analysis by the Texas Workforce Commission. 87.5% of hospital beds in Texas are in use; 12.6% of the beds are used by COVID-19 patients and their number is growing.35
The situation threatens to lower both access to and quality of health care — and that's a problem for everyone in the industry, health care officials say. No matter how many beds a hospital may have, it can use only the ones that have staff to cover them. It all comes at a time when Texas is recording nearly five times as many hospitalizations36 from COVID-19 than it was a month ago — with an increase of nearly 50% just in the past week — as the highly contagious delta variant sends more unvaccinated Texans34 to the hospital every day. New cases are up 92% since last week, and deaths are up 15% in the same time frame, state health officials said Wednesday. Many are unvaccinated Texas wanting to see the vaccines get full approval. The coronavirus vaccines have been thoroughly tested and found to be safe and effective. More than 340 million doses have been given in the U.S., and side effects have been determined by the FDA and independent researchers to be extremely rare and far less substantial than the dangers of getting COVID-19, which has killed more than 52,000 Texans as of Aug. 2.38 The problem is three fold in Texas:
In Texas' largest counties — Harris, Dallas, Tarrant, Bexar and Travis — neighborhoods with the highest proportions of Black and Hispanic populations are some of the least vaccinated areas.
Neighborhoods with median incomes below the county's median income also hold vaccination rates lower than that of the county's.
Rural counties have consistently lagged behind the state's fully vaccinated rate.
A chart showing the percentage of residents fully vaccinated testifies to rural-Texas and low income neighborhoods reluctance to be vaccinated.
Doses administered at military bases, federal prisons and Veterans Affairs Hospitals are not included.39

Texas vaccination map

.

Courtesy of Texas Tribune
While Abbott initially lied about the vaccine, on November 11, 2020,  tweeting that it would be "soon" he ignored the messages sent by the vaccine manufactures that it would not be available until mid-2021. When it was available, Abbott was among the first people to take it–and then blasted schools for wanting to vaccinate their students.40 Like Trump burgeoning record of lies about COVID and a vaccine,41 especially his false claim the children are "virtually immune" to COVID, and that 85% of the people who wear masks42 will get COVID.43
Studies in the U.S. and China have suggested44 that kids are less likely than adults to be infected, and more likely to have mild symptoms, but can still spread45 the virus to their family members and others. The CDC has said46 that about 7 percent of COVID-19 cases and less than 0.1 percent of COVID-19-related deaths have occurred in children.46  Abbott "embellishes" the truth to serve his own timeline. Abbott said without proof that Texas "is very close" to herd immunity, but was countered by an expert on immunity saying that Texas was "not even close to herd immunity"48 and Lauren Ancel Meyers, a biology professor at the University of Texas at Austin and director of its covid-19 modeling consortium, said that "a lot of misinformation and misunderstanding" has surrounded the herd immunity threshold, and that several factors could still influence it. Just 19 percent of Texas residents are fully vaccinated, according to figures from the Centers for Disease Control and Prevention, a lower share than all but six U.S. states.49 Health officials there have confirmed more than 2.4 million infections and counted an additional 400,000 "probable" virus cases. Almost 50,000 of those people have died, according to data gathered by The Washington Post. Abbott must be arrested and tried for genocide that is worse than that of Idi Amen.
In an interview with the New York Times on Sunday, epidemiologist and Director of the Center for Infectious Disease Research and Policy at the University of Minnesota Michael T. Osterholm, PhD, MPH reacted bluntly to Abbott's boast: "There is no way on God's green earth that Texas is anywhere even close to herd immunity," he said.50 Abbott them blamed the spread of COVID on immigrants, and claimed the Biden administration has been "releasing immigrants in South Texas that have been exposing Texans to COVID."[1, https://www.cnbc.com/2021/03/04/texas-gov-abbott-blames-covid-spread-on-immigrants-criticizes-bidens-neanderthal-comment-.html.] Biden on Wednesday slammed the governors51 for what he said was a "big mistake" and added that "the last thing we need is Neanderthal thinking." During a Monday press conference, a reporter asked the Republican governor whether the state was commingling antibody testing and live-virus testing numbers. "The answer is 'no,'" he replied. "They are not commingling those numbers."52 However, the Thursday change by the Texas Department of State Health Services means that the state had been doing precisely what Abbott denied. TDSHS disclosed that, as of Wednesday, it had included 49,313 antibody tests in its tally of total tests, according to the Texas Tribune. Those antibody tests represent 6.4% of the 770,241 total tests reported up through that time.53 Few are paying attention to the Delta Variant that is surging in the southeast54 and beginning to break out in South Dakota where its Republican Governor invited "one million" people to Sturgis Falls where none wear masks or social distance and are cavalier about the pandemic.