Denying reality and ignoring doctors and scientists who took to the airwaves to warn people about COVID and the spread of the virus, Abderrahmane Fadi, a  60-year-old science teacher,1 who had little respect for science, spent nine days in a hospital with COVID-19, where he was "between life and death." He said it was "the punishment I deserve" for not getting a coronavirus vaccine. He said he regretted turning it down: "Why didn't I go for the vaccine? Why?"2 The UK is struggling with an escalation of COVID cases especially with the Delta variant, because of COVID deniers like Fadi, yet the government of Boris Johnson continues to reject all medical and epidemiological reports. Prime Minister Boris Johnson (who has had coronavirus twice in two years) is resolute that his government will remain open as the nation in favor of profits over the life of the people,3 and opting out of vaccinating its citizens under the age of 18, and not requiring masks or social distancing.4 The Biden Administration is warning travelers to avoid UK, and cautioning about even considering going to India where the death toll is 10 times higher than that official government count.5
Others, especially employers, threaten employees if they get vaccinated. President Shinya Tamaki, a Japanese homebuilder that controls Tama Home Co. in Japan, warned that people who are employees of Tama Home Company and received the vaccine would die in five years, while internal e-mails told employees of the reported dangers of 5G phones. Workers who got the vaccine were told to stay out of the workplace indefinitely, a punishment that would mean they wouldn't receive pay.6 Tamaki issued an in-house document that states that anyone getting a vaccination and then waiting at home for an in-house quarantine, the employee would be "treated as an absentee (unpaid) during the waiting period at home." Tama Home employees 3,400 people and has annual sales of 200 billion yen. He said he was following the advice of the forner president Trump, and does not  believe people really die of COVID.7 Japan now has more than 854,000 cases of COVID, more than 15,097 deaths, and fears a fifth wave sparked by idiots like Tamaki pushing for genocide in the nation.8 COVID remains a threat to Japan as it struggles to hold the Olympics. A spate of COVID-19 cases further darkened a gloomy atmosphere around the Tokyo Olympics, which will open Friday after a year's delay, but remains widely unpopular and is opposed by the Japanese public9 as the first athletes test positive for the coronavirus.10
A leading Norwegian conspiracy theorist who denied coronavirus and regularly compared it to the flu and not a dangerous disease has died from the virus after hosting two events at his property. Hans Kristian Gaarder, 60, was found to have tested positive for COVID-19 after he died from the virus on April 6, just days after he hosted an illegal gathering in Gran municipality, around 40 miles north of the Norwegian capital Oslo. One local newspaper Hadeland reported that at least 12 people had been infected with the virus after they attended the illegal gatherings. Gaarder believed the 2020 election in the USA was "stolen", that COVID was invented by the Chinese as to take over the world. Gaarder was an dedicated Trump supporter, believed the white race was superior, and regularly spoke about the mythical Illuminati taking over the world.11 Gaarder infected at least twelve people who had attended his illegal gathering, even though events where there were a group of people were banned in the municipality from March 16 in a bid to drive down cases of the disease. COVID-19 has killed 688 people in Norway.
An Indonesian man with the coronavirus boarded a domestic flight disguised as his wife on July 18,2021. He wore a niqab covering his face and carried fake IDs and a negative PCR test result. The cover didn't last long. Police say a flight attendant aboard a Citilink plane traveling from Jakarta to Ternate in North Maluku province on Sunday noticed the man change the clothes in the lavatory. Examined, the man tested positive for COVID.12
Another Indonesian man has raised many eyebrows online after he claimed that he booked an entire airplane to fly out to Bali for his new year vacation. Instagram stories of the Jakarta socialite is now going viral. Richard Muljadi and his actress wife Shalvynne Chang were very concerned about contracting Covid-19, and shared images of an 'empty' flight that made him feel like travelling in a private jet. However, they used commercial carrier Batik Air for the journey. He even boasted that booking an entire commercial flight was easier on the wallet than hiring a private jet, Malay Mail reported. In fact,  he booked only two seats.13 This assault on common sense is one reason that Indonesia reported 1,566 deaths on Friday, July 23, 2021, making the islands nation of Indonesia the new epicenter of the pandemic.[1c https://www.bloomberg.com/news/articles/2021-07-22/with-50-000-cases-a-day-one-country-opens-up-as-another-suffers?cmpid=BBD072321_BIZ&utm_medium=email&utm_source=newsletter&utm_term=210723&utm_campaign=bloombergdaily.]
Landon Spradlin, 66, of Chatham, Virginia, was a pandemic-denying Trumpist evangelical who got what he deserved. He'd "witness" on street corners and try to get people to kneel on the sidewalk and accept Jesus, even if they'd been lifelong church-goers. Spradlin knew he was always right and everyone else was always wrong.14 He had four daughters, one son, and a wife who he told to ignore the "lie" of the coronavirus. Spradlin went to New Orleans to "save people through music" (he loved the blues: a music genre and musical form which was originated in the Deep South of the United States around the 1860s by African-Americans by African-Americans from roots in African-American work songs, and spirituals).15 He believed that Donald Trump was the Chosen One of his god, and incorporated that believe in his faith. His ardor supporting Trump had Spradlin testifying that Trump read the bible daily and faithfully followed the precepts of Christianity: not to commit adultery or perjury or speak ill of anyone, etc.
Pastor Spradlin was one of those who became ill after celebrating Mardi Gras in New Orleans. Only reluctantly, when his flu like symptoms did not go away, he allowed himself to be tested negative for Covid-19.16 Even as he was sick, he posted on social media about "hysteria" surrounding the virus.17 On the 13th of March Pastor Spradlin shared on Facebook a misleading post comparing swine flu and coronavirus deaths and suggested without fact that Barack Obama and Donald Trump respectively had been treated very differently by the media and that it was a politically motivated ploy to harm President Trump–parroting the twice-impeached, twice-loser of the popular vote that the election was stolen. Spradlin's funeral had only a handful of people and no immediate family.18
Texas, a state that has had over 29,000 cases of COVID and has a profits-over-people-loving governor who argued the coronavirus was not deadly, but Texas has had more cases of coronavirus denial than most states. The death toll of deniers continues to spike  upward in Texas.
By January 8, 2021, the U.S. recorded more than 4,000 daily COVID-19 deaths, the highest one-day total since the start of the pandemic. On Wednesday, the Texas reported 326 people in Texas had died of coronavirus, including an Oak Cliff father, Santos Fuentes,19 whose daughter, Gloria Fuentes, came forward, expressing regret over denying the virus existed. "I was one of those persons that personally thought that it was not there," she said. "So was my father. He would joke around and tell his family members that COVID was never going to get to him. That COVID didn't want him." COVID got him. "We Latinos don't take it seriously because we like to party. We like to hang out together," she said. "I think it's just because everybody gets it differently, we don't believe in it till we see someone close to us that has it the way that my father has (sic: had) it."
Dozens of COVID-19 cases have flooded the University of Florida Medical Center, where coronavirus patients have tripled in the past two weeks and taken over two-thirds of the hospital's beds — surpassing the pandemic peaks set in January. James Scott Owen, 41, of Jacksonville, thought he had a hangover after hosting a Fourth of July party, but he quickly became too sick to breathe and wound up in the hospital, where he remained a week later. Most of the patients were unvaccinated like Owen, who didn't expect to become so ill from the virus. "After seeing the way it has beaten me down like this to next to nothing," he said, "I'm definitely for the vaccination now."20 Florida's fascist governor, DeSantis, is struggling to do all he can to spread the Delta variant throughout his COVID-ravaged state. Local officials are citing the growing misinformation around vaccines as the source of the uptick, but both they and Republican Gov. Ron DeSantis are adamantly opposed to imposing new COVID measures. DeSantis took it a step further Thursday, saying he would call a special legislative session if President Joe Biden tried to implement a mask mandate in schools. Two University of Florida hospitals in Jacksonville that are grappling with the highest number of COVID-19 patients they've had since the start of the pandemic, with growing fear over when it may actually end. "It's very frustrating," Dr. Leon Haley, chief executive of UF Health Jacksonville, told the Times. "Each day we continue to go up. There's no sense of when things are going to curtail themselves. People are stretched thin." Haley said 90 percent of patients were unvaccinated, while the remaining vaccinated population had comorbidities or were on immunosuppressant drugs.21
UF Health North Nursing Manager Amy Doyle said this wave of COVID-19 is the worst she's ever seen. "The patients are younger," Doyle said. "We're getting more patients in faster every day than the last two surges." "Scott" Owen is typical of young people believing Trump and not science. UF Health nurse Carson Griego used to work overtime but finds himself drained at the end of his shift. "As staff becomes more burned out during another wave of COVID, that's what really going to put our patients at risk," Neilsen said.22 Unfortunately, younger victims are rising in Reoublicanazi-controlled states, especially in Florida, Alabama, Mississippi, Missouri, and Texas.
Hospitals around Northeast Florida are seeing an influx of COVID-19 patients and health officials say the patients are younger than the previous spike in cases. Most of the people being hospitalized have not had the COVID-19 shot, being avid Trump supporters. One Jacksonville Beach father, Donald "Frue" McAvoy23 was a healthy, young dad, recently tested positive and was later in the Intensive Care Unit (ICU) at Baptist Medical Center Beaches for two and a half weeks. The 33-year-old General Manager of a local gym tested positive for the virus on June 24, 2021. He was hospitalized a couple of days later and then put in the ICU. He was released late last week, but he is still suffering the consequences of the virus. "I got sent home with an oxygen tank, and basically it's used to keep my oxygen levels up," McAvoy said. "They're not remaining above 90% on their own." He cannot see his daughter as  he still tests positive. Florida remains, basically, unvaccinated; only St. Johns County reports 62% vaccinated, and Nassau reports 50%. Baker County has only 29% vaccinated, and Columbia County a low of 34%.24
Around Independence Day, State Rep. Bill Kidd, from the Kansas City suburbs, revealed that he has been infected by the coronavirus. "And no, we didn't get the vaccine," he wrote in a post that has since been deleted. "We're Republicans 😆" Bill Kidd now has COVID.25
State Rep. Brian Seitz, a Republican from Taney County, home to the tourist destination of Branson, commented on the post by falsely claiming that the virus had been developed by top government scientist Anthony Fauci and billionaire Microsoft founder Bill Gates. Missouri is a hotspot for the rise in COVID. Missouri is now exporting the deadly virus to Iowa and Arkansas. Late last year, state Rep. Suzie Pollock, a Republicanazi from south-central Missouri, proposed a bill to prohibit discrimination against people who choose not to be vaccinated against the coronavirus. Republicanazi Gov. Mike Parson signed into law a related bill blocking local governments from requiring proof of coronavirus vaccination for people seeking to access transportation systems or other public services.26
Mike Parson was one of the loudest Republicanazis voices telling people in Missouri not to get vaccinated for COVID as the disease and pandemic were imaginary, but Parson quickly changed his tune when he and wife Teresa tested positive for COVID September 23, 2020–and hurried to get tested and treated.27 while others in Missouri died because of his stupidity. Mike Parson took $6..288 from a PPP (from the pandemic fund he ridiculed) loan for his cattle28 while discounting the pandemic and other small business that received the loan.29 Taney County is near the heart of the surge of the delta variant, which health officials say spreads more easily than earlier versions of the virus. Despite the spike, just 28% of Taney County's residents are fully vaccinated, below the state average of 40%.30  Springfield Mayor Ken McClure told CBS' Face the Nation that his community was "being hurt" by rampant vaccine misinformation. He said people were sharing "health-related fears, what it might do to them later on in their lives, what might be contained in the vaccinations. And that information is just incorrect."31 Florida, Texas and Missouri, three states with lower vaccination rates accounted for 40 percent of all cases nationwide.32
Thinking people will boycott the state of Missouri, and especially boycott Branson's entertainment industry in the Ozarks where COVID is rising again.33 Branson currently has a COVID infection rate of 19.3 percent, and the number of daily new cases there is 10 times the national average. The local hospital's ICU unit is at 99 percent capacity, and experts say the current outbreak has not reached its peak. Mayor Larry Milton, who was elected in April, has continued to rail against masks and vaccines, and hosted a gathering of 27,000 for the Fourth of July. "First, let me state clearly and for the record: I will not support another government mask mandate, nor will I support a vaccine mandate," Milton, ignorant of what the US Constitution says, said later in a statement. "Business keeps booming and superspreading continues and the virus threat looms at enterprises such as the Titanic Museum Attraction," the Daily Beast reports. "Visitors there can dispense with masks, and the unvaccinated can place themselves at serious risk while imagining those who perished long ago for want of a lifeboat."34
Over the tight-lipped Tennessee governor's objection, On July 23, the state, with less than 39 percent of its eligible population fully vaccinated, began, again, to vaccinate its  citizens. State Rep. Scott Cepicky (R) slammed the health department for "targeting" the "impressionable youth" with advertising that promotes vaccination for teenagers, which he deemed "reprehensible." As COVID cases spiked because of Republicanazi inaction, Tennessee Health Commissioner Lisa Piercey said at a news conference that the state will jump-start efforts to promote vaccination for adolescents as early as next week, including by offering the shots at events on school property. Tennessee will resume nearly all forms of coronavirus vaccine outreach for children and teenagers after advocacy was halted this month because of pressure from Republican legislators upset by the state health department's efforts to vaccinate minors.35 To counter claims that COVID was intimidating tourists, Gov. Lee  told reporters that the State of Tennessee would buy plane tickekts for tourists and promised to give them away to anybody who books two nights in a hotel room to come to Tennessee, so it's 'Tennessee on me,'" Lee said to Paisley in the video. The initiative is being paid for with state funds, a $2.5 million allocation proposed by the governor in the 2021-2022 budget and listed only as a "Marketing Project" for the Tennessee Department of Tourist Development.36
The US is averaging 34,056 new Covid-19 cases each day, according to data from Johns Hopkins University — a 55% increase over last week. Texas is fourth and rising in Delta variant cases; only 43.1% of the state is vaccinated, but Texas Governor Greg Abbot refuses to implement another mask mandate.37 Abbott believes enough immunity has been acquired through vaccines or exposure and it would be inappropriate to force people who are already immune to wear a mask although studies show that the Delta variant does not attack COVID vaccinated people as hard as those without any vaccine.37 These unnecessary deaths were because of ignorance of those who would not accept reality. COVID is driving a wedge between patients and hospital beds in Missouri. Cox Medical Center South, has been inundated just as quickly. "We only get beds available when someone dies, which happens several times a day," Terrence Coulter, the critical-care medical director at CoxHealth, told Ed Young of the Atlantic.39
As Jodi Doering, an emergency room nurse in South Dakota, said: "Their last dying words are, 'This can't be happening. It's not real,'" Doering said, adding that some patients prefer to believe that they have pneumonia or other diseases rather than covid-19, despite seeing their positive test results.40
South Dakota Gov. Kristi L. Noem (R) had opposed mask mandates and other measures despite the rapid spread in her state.41 Noem is joined in ignorance by North Dakota's Gov. Doug Burgum,42 The Dakotas (North and South) both follow Trump as people died of the disease he disavowed repeatedly as a world danger.43 Reynolds continued to argue it was not the job of government to protect the people.44 Republican governors expose their ignorance of the Constitution.45  Covid-19, the disease the coronavirus causes, sent Trump to a hospital for four days46 this month, with doctors deploying the latest therapeutics47  — drugs unavailable to many Americans. Yet he has continued to cast doubt on the effectiveness of masks48 while maintaining that people should not be "afraid" of the coronavirus and bashing public health measures intended to limit viral spread.
"I think I made a mistake. I thought this was a hoax, but it's not." Those were the final words of a 30-year-old patient who died at Methodist Hospital in San Antonio this week after attending a so-called "COVID party," according to the hospital. Dr. Jane Appleby, chief medical officer for Methodist Hospital and Methodist Children's Hospital, said in a recorded statement that the unidentified patient told nurses about the party, which she said is hosted by someone diagnosed with coronavirus.49
Bexar County, where San Antonio is located, currently has 18,602 confirmed cases, with an increase of 923 on Friday, according to the Department of Health.50 The age range with the most cases were in people aged 20 to 29, making up 24%, and 30 to 39, making up 20%, according to the department.
Appleby said her hospital is seeing more cases in people in their 20s and 30s. She said while some can be treated and discharged, others become seriously ill. Appleby warned that the virus "doesn't discriminate" and encouraged the public to wear a mask and stay home as much as possible. Dr. Appleby was exasperated by the rise of Trumpian calls that the virus was not real by state governor and even by those dying of the virus.
Appleby's assessment was the same of most doctors and nurses. A doctor in Alabama said one of the last things her patients do before they are intubated due to Covid-19, is beg her for the vaccine, but she has to tell them it's too late.51 When those patients die and she talks to their family, they tell her they thought the virus was a hoax, Dr. Brytney Cobia of Grandview Medical Center said in a Facebook post. She said she tells them the best way to honor their loved one is to get vaccinated. "I go back to my office, write their death note, and say a small prayer that this loss will save more lives," Cobia wrote, urging people to ask her questions about the vaccine. "It's not too late, but some day it might be."52
Linda Zuern. known as a racist, bigot, homophobe, and against non-white immigrants.53 Zuern even posted support for the Pizzagate conspiracy theory,54 the idea that Hillary Clinton and other top Democrats were running a child sex trafficking ring out of the basement of a pizza restaurant in D.C. The conspiracy theory led to a gunman going to the pizza restaurant to liberate the children who were supposedly kept in the basement, despite how the restaurant didn't have a basement.55 The gunman, Edgar Maddison Welch of Salisbury, NC, was sentenced to four years in prison.56 Welch terrified an employee who inadvertently returned to the restaurant during his "investigation," briefly pointing a gun at him before the employee ran for his life. Welch also shot through the lock of a closet, damaging a computer.
Zuern also took time to oppose LGBTQ equality. She spoke out against her state's ban on LGBTQ conversion therapy, which she called "evil" and "offensive to parents, Christians, conservatives and moral people."
Zuern was a former member of the Bourne, Massachusetts Board of Selectmen and a radical far-right conspiracist Trump-supporting figure in the local Republican Party, had denied the reality of COVID, and like her idol Trump, compared it to a cold and even the flu. She was surprised when she was informed that she had what she called an imaginary disease: COVID. Zuern soon realized her ignorance made her a victim of the virus. Linda Zuern had to be flown to the hospital due due to the severity of her severe case of COVID. Zuern died of COVID-19 on a ventilator. For months, Linda Zuern,57 of Bourne, Massachusetts, a member of the pro-Trump group the United Cape Patriots,58, recognized as a fascist organization,59 had promoted conspiracy theories about the pandemic on Facebook and spent hours calling for people to remove their masks and not be vaccinated. She spent a lot of her time protesting the "VaxBus" that helps people in rural areas get the vaccine for COVID.60 Zuerne's false claims about COVID ranged from denouncing Democrats as the "liars" trying to discredit Trump, to it being sent by Chinese tourists working for Xi to spread the disease. She has shared articles accusing the World Health Organization of a coverup61 of the "Wuhan Virus".62 Zuern claimed COVID-19 was cover for "globalists" to usher in "U.N. Agenda 2030" — a sustainable development initiative right-wing conspiracy theorists assert is a plot to create a one world government.63
Jodi Orth Doering speaks out about COVID in South Dakota on CNN
A desperate, outraged Twitter thread from a South Dakota emergency room nurse, Jodi Orth Doering, went viral last weekend,64 landing its author a live interview on CNN.65 "When I read some of your tweets, my jaw dropped," the host told Jodi Doering, referring to her account of gravely ill patients who "scream at you for a magic medicine and that Joe Biden is going to ruin the USA. All while gasping for breath."40
Jodi Doering commented that some patients prefer to believe that they have pneumonia or other diseases rather than covid-19, despite seeing their positive test results.40 "The reason I tweeted what I did is that it wasn't one particular patient," the nurse said. "It's just a culmination of so many people, and their last, dying words are, 'This can't be happening, it's not real.' And when they should be spending time FaceTime-ing their families, they're filled with anger and hatred, and it just made me really sad."68
COVID has taken more lives of health care professions (doctors, nurses, and others) than any other disease worldwide. Over 300,000  have been infected by patients they were treating.69 Over one-third of the healthcare workers who surrendered their lives to COVID were immigrants, even helping the rabidly anti-immigrant followers of Trump.
Mexico lost over 1,162, the USA followed with 3,507, and the world lost over 17,000 by March 5, 2021 but it is most likely an underestimate due to under-reporting in many countries like China, Russia, North Korea, etc.70 By May 24, 2021, this number rose to an estimated 115,000.71 By July 16, 2021, the rate of the Delta variant darkened the picture especially in Republicanazi-controlled states, the UK and Italy, and countries rushing to open their businesses for profit.72 "Delta is now the dominant variant in the U.K." and it is "probably the most contagious variant we've seen yet, and it's here in the U.S.," Dr. Sandra Fryhofer said. "Even though this variant is hyper transmissible, a full vaccination series seems to protect against it, but you need both doses of a two-dose series—one mRNA vaccine dose may not be enough," she added.
The current COVID-19 surge in the U.S. — fueled by the highly contagious73 delta variant — will steadily accelerate through the summer and fall, peaking in mid-October, with daily deaths more than triple what they are now. That's according to new projections released Wednesday74 from the COVID-19 Scenario Modeling Hub, a consortium of researchers working in consultation with the Centers for Disease Control and Prevention to help the agency track the course of the pandemic.75
In Peru, doctors were dying of COVID because of a lack of protective gear for treating COVID-19 patients.76 The protesters washed disposable masks outside of the National Hospital Edgardo Rebagliati Martins to bring attention to what they complain is a lack of protective supplies. By May 2020, Peru reported more than 6,500 new coronavirus cases.77 By August 27, 2020, Peru confirmed more than 610,000 coronavirus cases and more than 28,000 deaths, both tallies among the highest in Latin America. With the Fujimori government ignoring the medical profession as Keiko Fujimori was struggling to sin the presidency to free her traitorous father, Alberto Fujimori, who had fled Peru to attempt to get a seat in the Japanese Parliament, little was done.78 COVID in Peru is skyrocketing today with many Peruanos refusing to wear masks, and going outdoors infecting their families and everyone else the come close to.79 Brazil (in Portuguese: Brasil) passed Spain in reported COVID-19 deaths, and today leaves open graves for those expected to die.80 Brazil overtook Russia over the weekend to become the country with the most confirmed cases.
President Jair Bolsonaro, a strong supporter of Trump and champion of the very rich in Brazil,  undermining the preventative measures and messaging by the governors of the most impacted places in Brazil. "The behavior of President Bolsonaro is the wrong behavior. He is against social isolation. He's against orientation of the science," the reporter said, adding that in his city, "we support social isolation, we recommend to the people to use masks and stay home."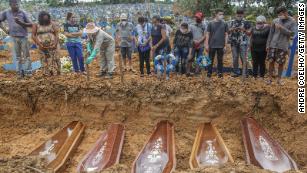 Bolsonaro has referred to the virus as a "little flu" and frequently downplayed its risks. Two health ministers have left his cabinet in a 4-week period — one was fired and the other resigned — after disagreements over how to handle the pandemic.81 Brasillians were not happy with Bolsonaro, so many dressed as reptiles when they went for their vaccination. "If the government had been quicker to acquire vaccines, many people would still be with us," said the environmentalist and internet influencer Klinger Duarte Rodrigues set off for his coronavirus shot last weekend he did so dressed as a South American snake,82 who attached a placard to his snake costume calling for the impeachment of Brazil's president, Jair Bolsonaro. Rodrigues's protest was not the only act of reptilian resistance documented as Brazilians have headed out for their jabs – and the explanation for their choice of clothing is the president himself.83
The problem is that most people do not want to know reality and take comfort in the Trumpian lie that COVID is like the flu.84 After his premature release85 from Walker Reed Veterans Hospital, Trump's lie that COVID compares to the flu and the numbers of deaths are similar is criminal. The Centers for Disease Control and Prevention estimates that 22,000 people in the U.S. died from the flu86 during the last flu season from late 2019 into 2020. For the 2018-19 flu season, the CDC said, about 34,000 people died. And for the 2017-18 flu season, there were 61,000 influenza-related deaths. During the 2009-10 H1N1 flu pandemic, about 12,500 people died in the U.S., according to the CDC. There were about 100,000 deaths from the flu during the 1968 pandemic.[1/ https://www.cdc.gov/flu/pandemic-resources/1968-pandemic.html.] During the week of October 6, 2020, the U.S. surpassed 210,000 deaths from Covid-19, and some models have suggested that hundreds of thousands more people could die by the end of the year. Doctors argued that Trump's tweet comparing COVID to the flu was morally reprehensible.87 With Trump's repeating his lies on Twitter, Twitter finally banned Trump from using its platform to spread misinformation about COVID.
Facebook suspended Trump accounts for two years, beginning on January 7, 2021.
Facebook said Mr Trump's actions were "a severe violation of our rules".76 Facebook's Vice President of Global Affairs Nick Clegg explained in a post: "Given the gravity of the circumstances that led to Mr Trump's suspension, we believe his actions constituted a severe violation of our rules which merit the highest penalty available."90 Trump called this censorship, even though Facebook is a private company and has no obligation to Trump or anyone (I, too, have been suspended for a short period of time for violating its rules; I accepted Facebook's decision).